Wafer Process Systems Inc.  performs in field modifications to existing equipment to accommodate process changes and/or safety and upgrades for our customers existing equipment without the need of extensive cost associated with the removal of existing equipment and installation of new equipment, including our solvent wet benches.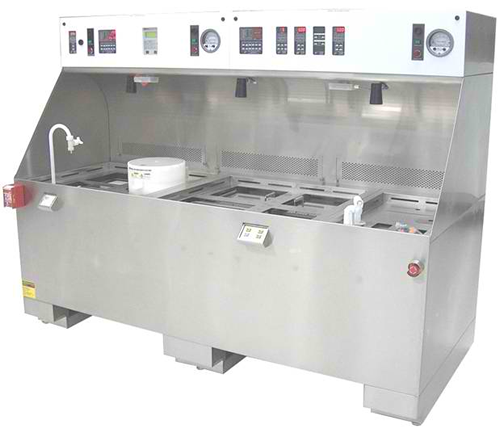 Solvent Wet Bench Overview
The Wafer Process Systems Inc. Model WPS-800-VLF-FM-SS, Factory Mutual Approved Stainless Steel Solvent Wet Process System are designed to process Si and GaAs wafers in a class 10 environment. Systems are constructed out of FM Approved Stainless Steel for resistance to all solvent processes and fire. Safety and ergonomics are main aspects in the system design. Systems are designed to be installed through the wall with the control panel flush to the wall. All systems come with an FM approved CO2 flame suppression system which interlocks with EPO circuit and interfaces with customers facility fire monitor system. All DI Water fluid components are accessible through removable rear access panels. All electrical components are accessible through front slide out control panels and removable rear access panels and incorporate interlock switches with EPO interface for safety. All chemical wetted components are Stainless Steel or PFA Teflon.
Through Wall Installation in Class 10 Clean Room at Customers Facility