IPA Dryer – Aerosol (Liquid Diffusion Technology)
Have you ever considered the use of an IPA dryer (Aerosol) for your wet process? Please contact Wafer Process Systems for more information.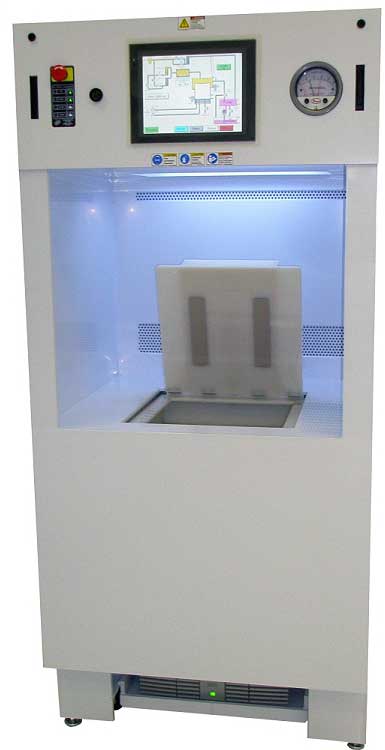 Wafer Process Systems, Inc.'s IPA Dryer (Aerosol) Liquid Diffusion Technology (LDT) provides enhanced drying performance for a variety of substrates and material surfaces. This proprietary drying process and its subsystems control the creation of an ultra-pure IPA aerosol layer that moves across a motionless substrate to diffusively remove water, without leaving watermarks. The Venturi Aerosol Generator and its subsystem efficiently creates the ultra-pure IPA aerosol layer with the robust process flexibility necessary to dry high aspect ratio / deep trench topography, half-pitch wafer spacing, and a wide variety of other applications. This subsystem uses no energy to passively create a unique range of IPA aerosols that any other IPA dryer simply cannot create. Furthermore, using an IPA aerosol in itself eliminates the safety hazard of IPA vapor dryers. Wafer Process Systems, Inc.  Passive Aerosol Dryers provide an efficient and clean drying system that is safe and environmentally-friendly.
The operator interface is via a colored touch screen panel which provides full graphical display of all process parameters. The touch screen controls incorporate an alarm status panel which prompts the operator in the event of any alarm conditions. A maintenance screen panel which allows service personnel the ability to control all functions manually and to calibrate temperature indicators and auto tune all PID software functions. The integral database provides the ability to create multiple recipes and download from process recipe select screen. All systems incorporate UL, CSA or CE listed, electrical components. All system electrical components and DI Water components are guaranteed for three years and provide a 98% uptime. Check out our maintenance program, CLICK HERE!
IPA Dryer (Aerosol) Optional Features
FM Approved 304 stainless steel constructed weldment with #4 finished and integral secondary containment plenum.
FM Approved 316 stainless steel constructed weldment with mirror polished finished and integral secondary containment plenum.
FM Approved CO2 Flame Suppression System with Dual Mode UV/IR detectors.
Particle Performance
With 200mm hydrophilic silicon wafers the Passive Aerosol Dryer (PAD-120) dries with particle neutral performance or better at 120 mm that is watermark free, regardless of wafer load size. These particle performance results were obtained and tested for particle performance at a customer's site while running actual application processes. A manual stand-alone dryer was used for these tests. Integrated dryers show even lower particle adders as a result of Megasonic Cleaning and robotic handling. Particle neutral is based upon the average of all wafers in the cassette.
Candela Test Results
Before and after Candela particle test of quartz wafers process through Megasonic IPA Aerosol Dryer only without any Pre-Clean Process.