Fully Automated Semiconductor Wet Benches
Wafer Process Systems Inc.  performs in field modifications to existing equipment to accommodate process changes and/or safety and upgrades for our customers existing equipment without the need of extensive cost associated with the removal of existing equipment and installation of new equipment.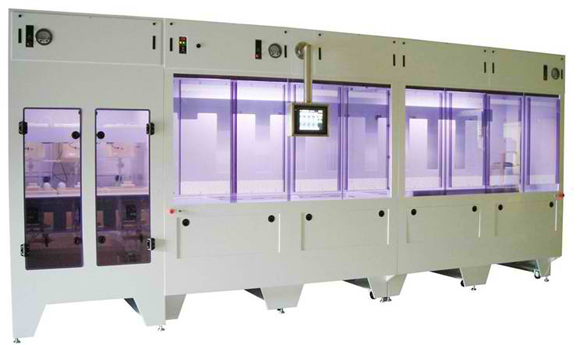 Fully Automated Semiconductor Wet Bench Overview
Wafer Process Systems Inc. Model WPS-FA-RA-300 / 450, Fully-Automated 300MM / 450MM Front and Rear Access Batch Chemical Process System with 300MM and 450MM process capability which incorporates Y/Z Linear Servo Positioning Systems to provide a wide range of movement controls to accommodate various process needs. Systems are designed to accommodate one each 300MM cassette with twenty five wafers or one each 450MM wafer cassette with thirteen or twenty five wafers to provide broader process capabilities.
The positioning system movement is performed by an independent numerical controller and incorporates interpolated movement for reduced transfer times and smoother movements. A three level coded access provides low level access for Fab Process Operator for wafer processing only using pre-programmed recipes; a medium level access for Fab Process Engineering personnel to edit existing process recipes and program new recipes and high level access for Equipment Engineering personnel or Fab Supervisors, which provides full access to all functions of the control system.
The operator interface is via a colored touch screen panel which provides full graphical display of all process parameters. The touch screen controls incorporate an alarm status panel which prompts the operator in the event of any alarm conditions. A maintenance screen panel which allows service personnel the ability to control all functions manually and to calibrate temperature indicators and auto tune all PID software functions. A positioning system maintenance screen panel permits the service personnel to operate the positioning system both in manual and automated operation modes. The integral database provides the ability to create multiple recipes and download from process recipe select screen.
The access coded process operation requires Operator ID (Numeric), Recipe Select (Numeric), Product Lot Identification, (Alfa-Numeric), Chemical Data (Manufacturer, Lot Identification, Mixture Ratio, and Date of Dispense).